When bad weather is good weather.
One challenge for landscape photographers in the desert southwest is, oddly enough, the sunshine. Here in New Mexico, the skies are sunny and clear nearly 90 percent of the time. When I began photographing landscapes I quickly learned that I needed to pay attention to weather forecasts and follow the "bad" weather much more than the good. "Blue bird" clear skies are nice, but they can be boring and uninspiring in landscape photography.

When I saw forecasts for a powerful storm in the Southwest on Christmas Eve, 2021 I knew I had to jump at the opportunity. I considered my options and decided White Sands was the best bet. I was really hoping to catch some images of the sandy equivalent of sea spray. Turns out I got a little more than I bargained for.

I arrived at White Sands National Park early on the morning of the 24th, prepped my gear, and hiked a several miles north into the dunes. As I walked there was a only a light breeze, and I started to wonder if the storm might bypass the area. I figured I would look for abstract photos instead.

Soon, though, I began to feel the wind picking up. Looking to the west I saw giant, billowing clouds of gypsum dust building above Alkali Flats, and knew the winds were coming my way.


In a matter of minutes the air began to howl; sand began to fly as the winds made it difficult to walk or even see. Clearly the storm hadn't missed me after all.

Photography on days like this presents interesting challenges. The gusts were at times so strong I could only turn my back and try to protect my camera, even kneeling to prevent getting knocked over. My tripod kept blowing over, and holding the camera steady by hand was nearly impossible. Blowing sand can find its way into almost everything (I'm still finding it in my gear months later), including cameras. Even though the gypsum grains at White Sands are relatively large, a few managed to find their way into my camera body and onto my sensor. I considered using a rain cover on my camera but realized it would likely do little good. Under these conditions there is nothing to do but accept that the sand will win -- and keep shooting anyway.

But more than anything, I was just plain excited. Odd though it may be, I love the challenges of awful weather and harsh conditions. These conditions certainly didn't disappoint.

As the storm intensified the sky darkened and gypsum dust thickened. The scenery began to take on an almost surreal quality as the wind blasted across the landscape. This was nothing like the White Sands I knew on calm days. Periodically, columns of brilliant sunlight would penetrate the heavy cloud cover, then race across the dunes at warp speed. It was difficult to catch these, but they led to some of my favorite images yet.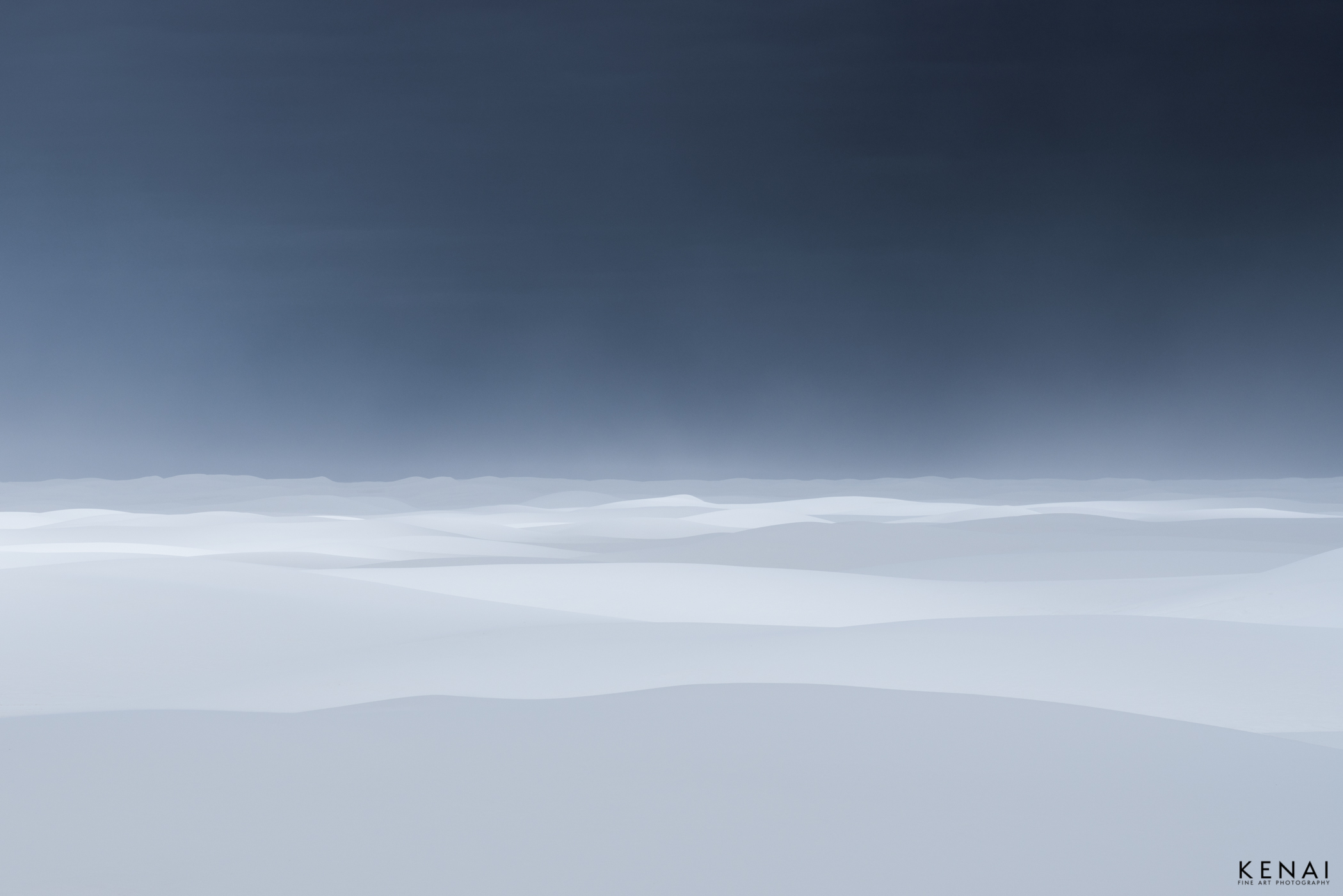 Later in the afternoon the sky darkened into a deep blue, gray hue. Without much direct sunlight, the dunes began to take on an indescribable character. My autofocus was struggling so I shot entirely manually. The results were stunning, and almost look like a paintings.
While the conditions were challenging I was treated to a view of White Sands I imagine very few people get (or are willing) to see. The day was just more proof that embracing harsh conditions as a photographer can produce the best results. I hope you enjoy the photos.

- Chris