While showing my work at the Ruidoso Art Festival in New Mexico, I met a wonderful couple who are also from New Mexico. We talked a few times over the course of the show, including about lesser-known photography opportunities in the state. They asked if I had ever photographed the Salinas Pueblo Mission ruins near Mountainair, New Mexico. I had heard of the ruins but had never actually seen them in person. Acting on their helpful recommendation I decided to make the trip and see what was possible. I am thankful I did because I was able to produce some unique images unlike anything else I have done.

The Salinas Pueblo Mission ruins lie in the heart of New Mexico, generally south and east of the Manzano Mountains. The ruins are almost exactly four centuries old; construction began in the 1620s by a Spanish missionary, Fray Francisco Fonte. Working with Puebloans in the area, Fray Fonte directed the building of a convent and church at the site. Later in the 1600s Apache raiders persuaded the Spanish to abandon the site. Eventually the ruins were partially rebuilt, providing us with a view of these magical structures.

After the hour-long drive from Albuquerque I arrived at Abò, hoping to catch a late-afternoon thunderstorm over the ruins. Unfortunately the storms never quite materialized, so I spent time scouting locations and snapping a few photos. Even if I don't think conditions will pan out for a memorable photo I try to use every trip as an opportunity to practice with my camera and eyes.

I shoot in manual mode almost exlcusively so I am constantly working to optimize different settings. I also experiment with different photographic methods. At Abò I practiced high dynamic range (HDR) shots as well as exposing to the right (ETTR) a method for allowing as much useful data (in the form of light!) onto the sensor as realistically possible. I rarely shoot HDR but the ruins were backlit so I thought I would experiment.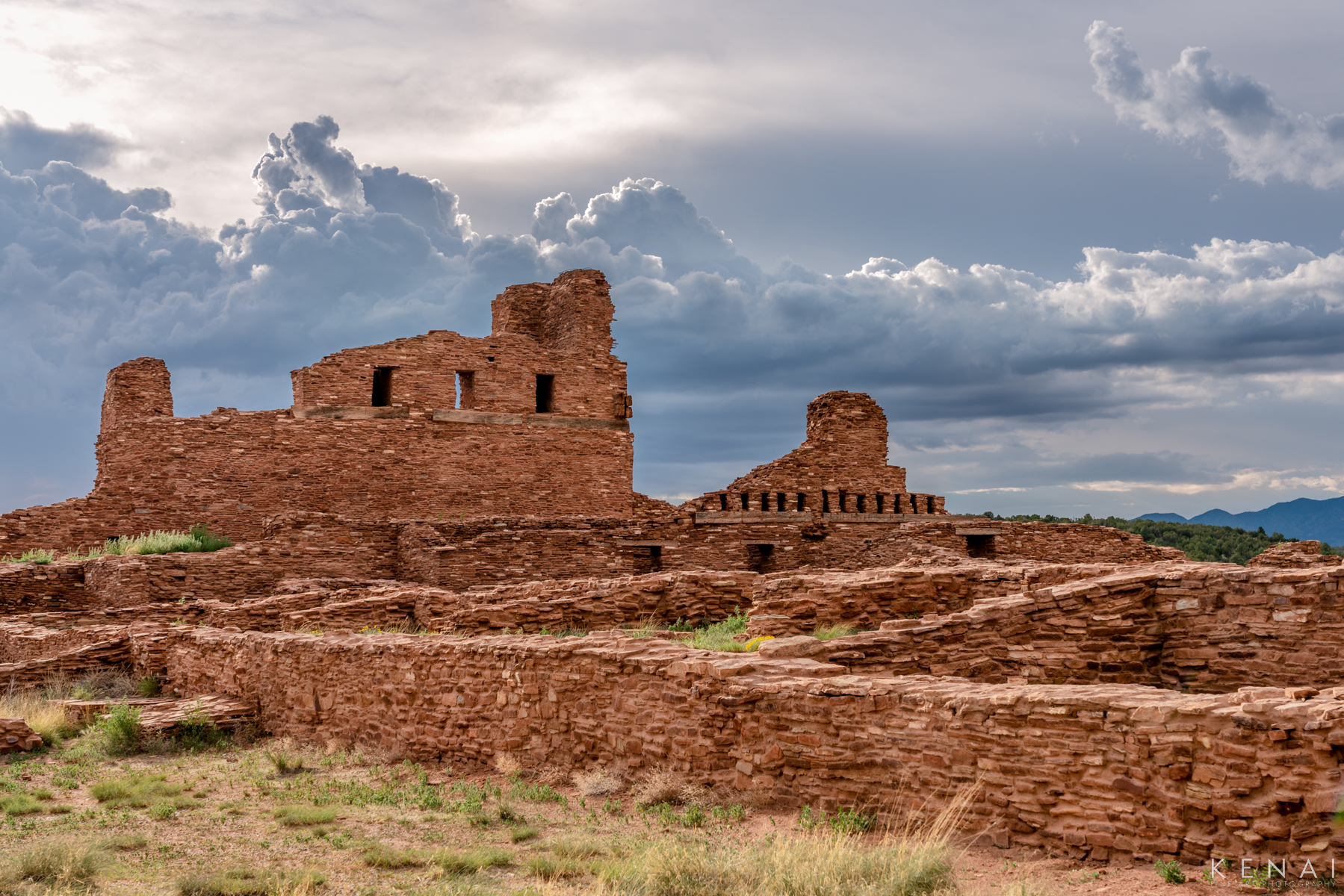 In addition to the uncooperative monsoon storms the sunset was lackluster as well. I was zero for two and considering packing up for the long drive home, but at the last minute decided to stay after sunset. I was the only person at the ruins and night fell quickly. I swapped lenses, attaching my Sony f/1.4, 24mm GM lens. This thing is a powerhouse of clarity and works wonders at night. I would need it because the night was, well, dark.

Since there was no moonlight I decided to try a little light painting of the ruins and foreground with a flashlight. My goal was to illuminate the ruins while simultaneously capturing the stars -- all in a single image. This is tricky because the camera needs to be sensitive enough to capture faint starlight but not be blown out by a bright flashlight. Success would depend as much on my camera skills as my flashlight skills.

I experimented a few times before getting it right. I settled on an aperture of f/4 as a compromise between speed and clarity. I did not want the stars to streak so I needed a relatively short exposure time (in this case 20 seconds). But f/4 also helped me keep the foreground, ruins, and sky acceptably focused. (I used hyperfocal distance concepts to aid this process and shot in manual focus the entire time). I settled on ISO 500 as a compromise between sensitivity and noise.

I left my remote shutter release at home so I programmed the camera to delay 10 seconds before beginning the shutter. This gave me time to run 30-40 yards to the left or right of the camera to "paint" the ruins and grass with a flashlight. I quickly learned that less was more; about five seconds of painting was sufficient to illuminate what I needed without blowing out the image. I tried this in two different locations that night and the results turned out well. In one image the distant lights of Albuquerque produced a striking orange glow in the clouds, reminiscent of a sunset. In the other image the Milky Way is visible above the ruins.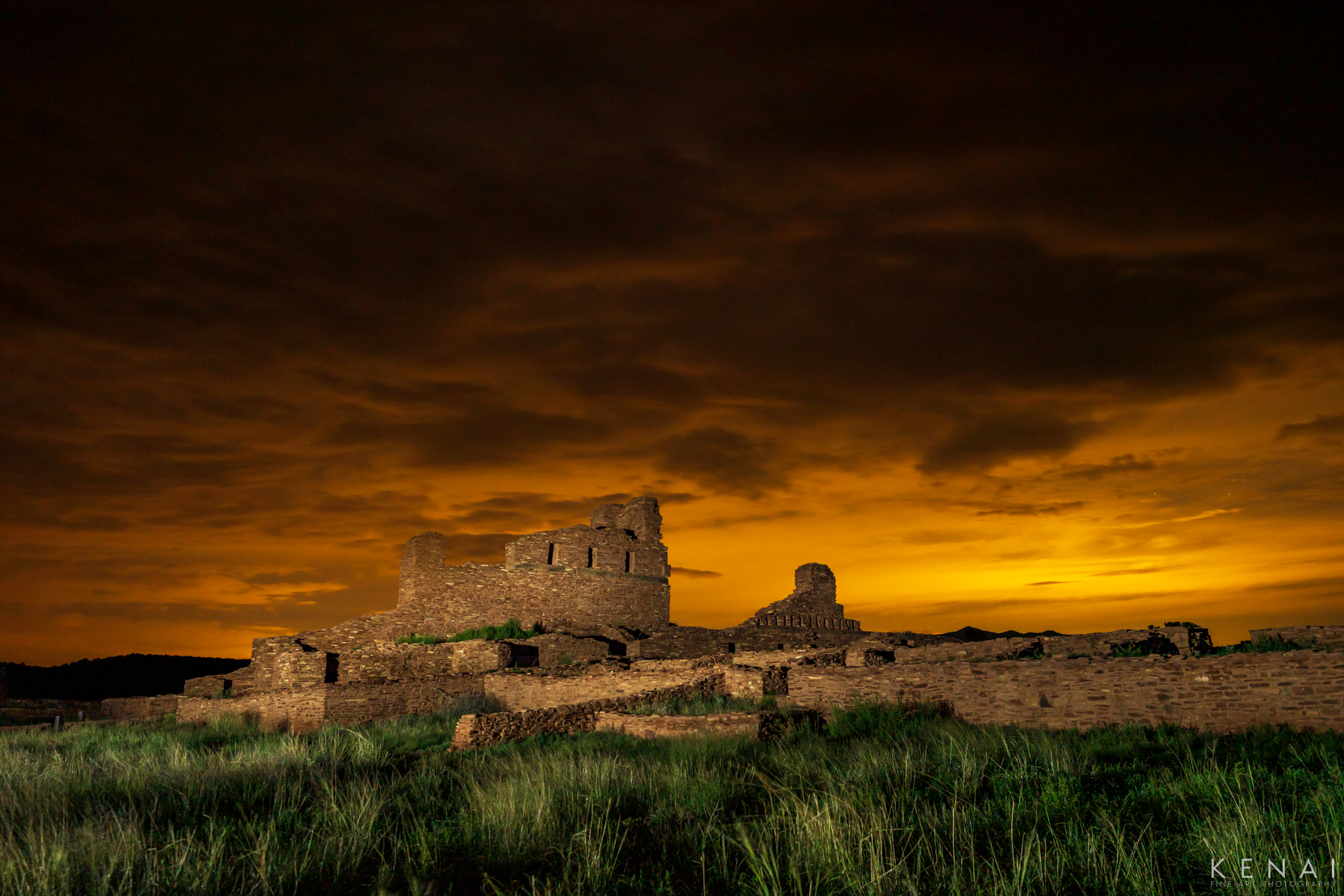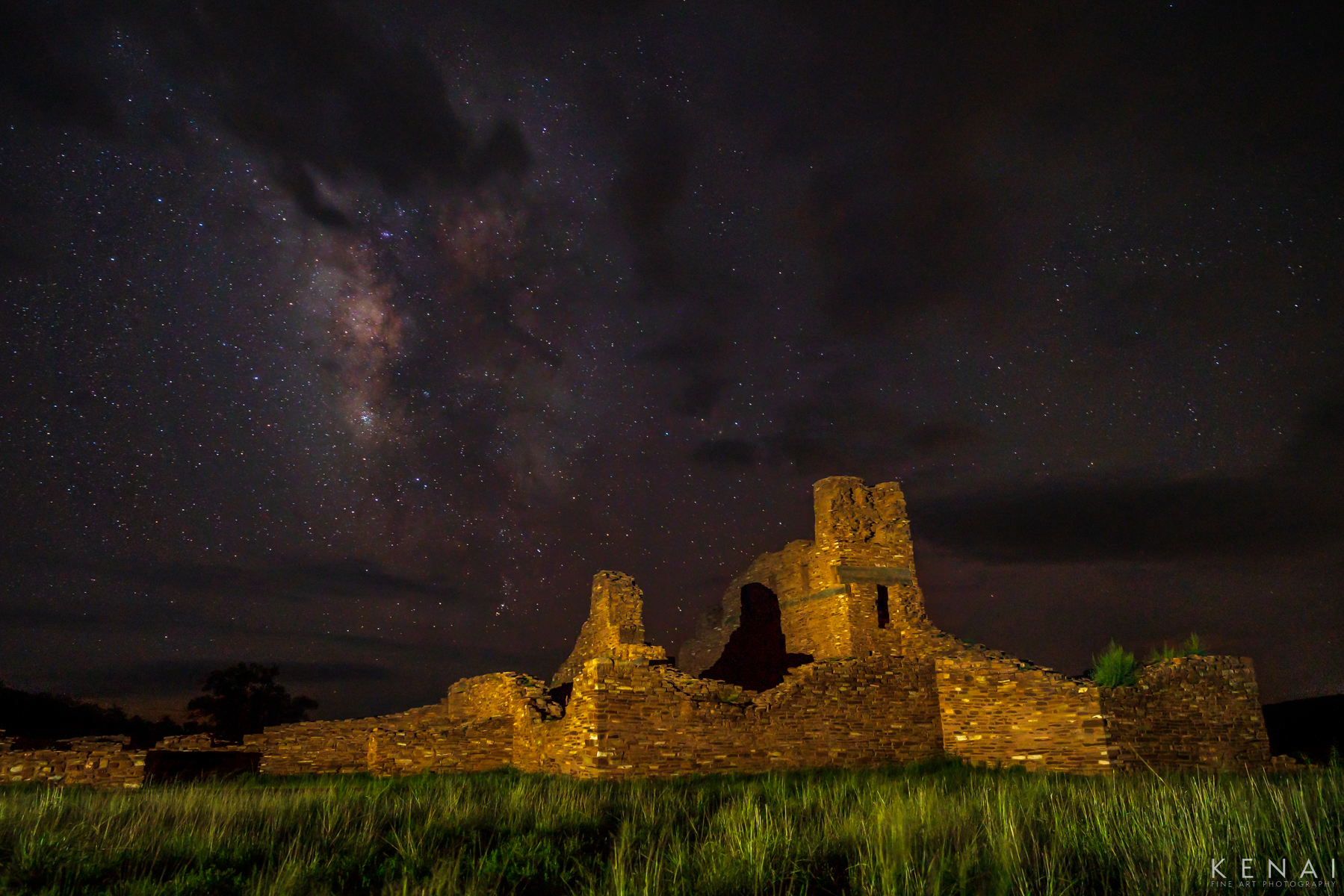 This was a fun and challenging trip. I learned a lot and practiced making photographic decisions in the field. I also got a chance to confront how superstitious I am. Do I believe in ghosts? Fray Fonte told me not to believe in them and I trust him.